To Add an E-mail or Newsgroup Account
On the Tools menu, click Accounts.
In the Internet Accounts dialog box, click Add.
Select either Mail or News to open the Internet Connection Wizard, and then follow the instructions to establish a connection with an e-mail or news server.
Note: Each user can create multiple e-mail or newsgroup accounts by repeating the procedure above for each account.
To Find Newsgroups of Interest
To find newsgroups of interest to you, you can search through a news server to find specific words in newsgroup names.
In the Folders list, click a server name, and then click Newsgroups.
In the Display newsgroups which contain box, type the words you want to search for.
Note: If you cannot find a specific newsgroup in the list, your news server might not carry that newsgroup.
To Subscribe to a Newsgroup
The benefit of subscribing is that the newsgroup is included in your Folders list for easy access. You can subscribe to a newsgroup in any of the following ways:
| | |
| --- | --- |
| | When you add a news server, Outlook Express prompts you to subscribe to newsgroups on that server. |
| | Click a news server name in your Folders list, and then click Newsgroups. Select the newsgroup that you want to subscribe to, and then click Subscribe. You can also unsubscribe here. |
| | When you double-click a name in the Newsgroup list, a subscription is automatically generated. |
To Cancel Your Subscription to a Newsgroup
| | |
| --- | --- |
| | When you view a newsgroup without subscribing to it, its name appears in your Folders list. Right-click the name and then click Subscribe. |
| | To view a newsgroup you subscribe to, click its name in the Folders list. |
| | To cancel your subscription to a newsgroup, click Newsgroups, click the Subscribed tab, select the group you want, and then click Unsubscribe. You can also right-click the newsgroup in your Folders list and then click Unsubscribe. |
To Read Newsgroup Messages
Go to a newsgroup and look through the message list for a message you want to read (you may need to scroll).
| | |
| --- | --- |
| | To view the message in the preview pane, click the message once. |
| | To view the message in a separate window, double-click the message in the message list. |
Note: To display or change the preview pane, on the View menu, click Layout, and then in the Preview pane area, select the options you want.
To Post a Message to a Newsgroup
In the Folders list, select the newsgroup you want to post a message to.
On the toolbar, click New Post.
Type the Subject of your message. Outlook Express cannot post a message that does not contain a subject.
Compose your message, and then click Send.
To Send Your Message to Multiple Newsgroups on the Same News Server
In the New Message dialog box, click the icon next to Newsgroups.
In the Pick Newsgroups dialog box, click one or more newsgroups from the list (hold down the CTRL key to select multiple newsgroups), and then click Add.
You can choose from all newsgroups or only those you subscribe to by clicking Show Only Subscribed Newsgroups.
You can send a given message to more than one newsgroup at a time only if all the newsgroups are on the same news server. To post a message to newsgroups on other news servers, create a separate message for each news server.
You can cancel a message you have posted by selecting the message, clicking the Message menu, and then selecting Cancel Message. Canceling a message does not remove it from a newsgroup user's computer if the user downloaded the message before it was canceled. You can cancel only messages you have posted; you cannot cancel another person's message.
To Block Messages from a Sender or Domain
You can block messages from a particular sender or domain. The domain is the name following the @ symbol in an e-mail address.
When you block a sender or domain, no e-mail or news message from that sender or domain will arrive in your Inbox or in the news messages you read. E-mail from blocked senders goes directly into your Delete folder. Newsgroup messages from blocked senders are not displayed.
From your e-mail Inbox or the list of messages in a newsgroup, select a message from a sender you want to block.
On the Message menu, click Block Sender.
Blocking a sender applies to standard POP e-mail only. It does not apply to HTTP e-mail or IMAP messages.
To remove a sender or domain from the Blocked Senders list, on the Tools menu, point to Message Rules, and then click Blocked Senders List. Select the sender or domain, and then click Remove
To set up newsgroups for offline reading:
In the folder list in Outlook Express, select a newsgroup.
On the File menu, click Properties.
Click the Download tab.
Select When downloading this newsgroup retrieve , and then click the option you want.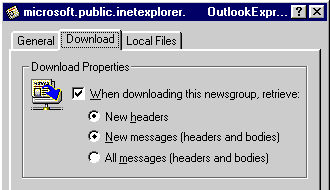 To download messages:
| | |
| --- | --- |
| | On the Tools menu, click Download All. |

To download specific messages after you've downloaded headers:
Click the message header that interests you.
On the Tools menu, click Mark for Retrieval, and then click Mark Message. Repeat for other messages.
On the Tools menu, click Download All.